The UN's Sustainable Development Goals
The UN's sustainability goals are the world's joint work plan to eradicate poverty, fight inequality and stop climate change by 2030. The sustainability goals were adopted by all UN member states in 2015. They provide an action plan to meet the world's most pressing challenges. Although we have just started our sustainability journey, the SDGs remind us that our efforts are part of something bigger - that together we contribute to peace and prosperity for people and planet. Here is an overview of the sustainability goals we have chosen to focus on:


Decent work and economic growth
Industry, innovation and infrastructure
Sustainable cities and communities
Responsible consumption and production
Stop climate change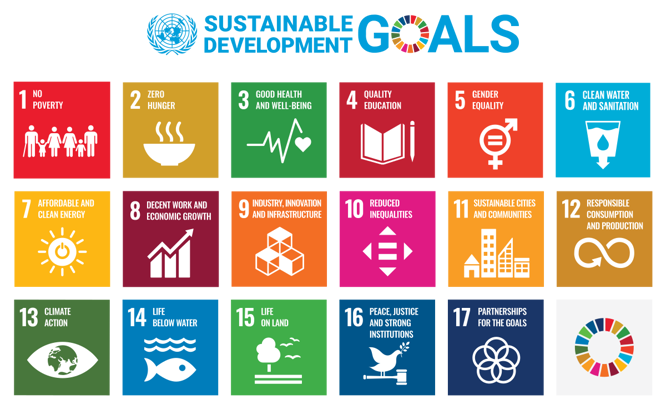 Our internal sustainability goals
Below you will find our 6 internal SDGs (Sustainable Development Goals) for the coming years.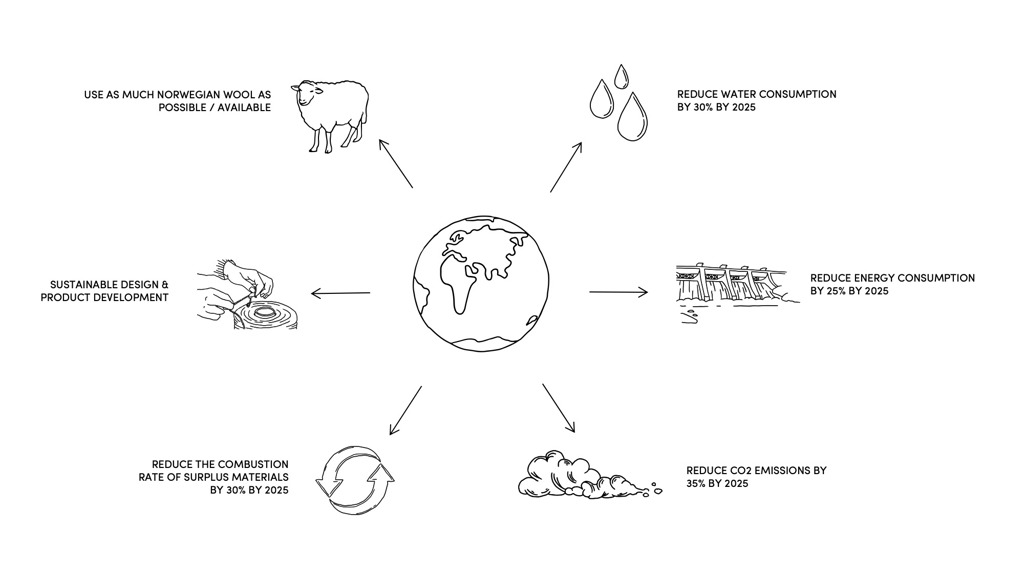 1. Reduce water consumption
We are working to reduce water consumption by 30% during 2025. We have a high reuse of water and we make water-saving investments. In 2019, we invested in a new Ultra Sonic washing machine which reduced water consumption in the washing process by 40%. During the nearest period, we are implementing a process for reusing process water in our fiber pile where the wool is washed.
We are also working to improve the fill rate in our machines, that is, more wool in each bath. All our waste water goes to a municipal treatment plant. The water for production is taken from the Mesna River, which flows next to the factory. The water is released back into Mjøsa, which is Norway's largest source of drinking water. This means that we have very strict requirements for the quality of the water that goes from the factory to the municipal treatment plant.
2. Reduce energy consumption
We are working to reduce energy consumption by 25% during 2025. We are working with the recovery of surplus heat in the form of heating process water and premises. We have a high level of awareness of consumption, such as looking at which facilities should run when, such as ventilation, heating fans, etc. We look after all small energy thieves such as light and heat, and work towards increased use of renewable energy. In 2022, we carried out an energy survey with subsequent proposed measures which are implemented on an ongoing basis. Phase 1 is to be completed in February 2024.
3. Reduce CO2 emissions
We are working to reduce CO2 emissions by 35% during 2025. Today we use electricity based on hydropower and petroleum gas (LPG) for the steam boiler in production that produces steam. The propane boiler generates approx. 900 tonnes of CO2 per year. We want to reduce the use of propane to more environmentally friendly energy sources. One of the first measures is to install a heat pump to replace the use of propane. The energy we use today goes to district heating.
Wool textiles have little need for the use of chemistry in the production process. We work to use the most environmentally friendly dyes possible and work continuously to reduce the use of chemicals by optimizing the processes so that the chemicals are used optimally. All our chemicals comply with REACH (Registration, Evaluation, Authorization and Restriction of Chemicals), an EU regulation that is applicable in Norway through the EEA agreement. The regulations require that importers or manufacturers of chemicals must document the properties of the substance before it can be imported or produced. REACH also includes detailed guidelines for the risk assessment of chemicals.
4. Reduce the burn rate of excess material
We are working to reduce the combustion rate by 30% during 2025. Our surplus material consists of production residues in the form of jar edges, yarn residues and loose fibres. We also have a proportion of textiles classified with 2nd sorting. These cannot be sold as furniture or upholstery fabric, and must therefore be given new life in another form. We therefore continuously work to find new business areas, recycle waste into yarn and other products, including through the Industrial Project Sirkull under the auspices of Norsk Industri (Teko.)
Most of our residual materials are reused and are also used by artists, schools and students for training. Jar edges are used for fillers and fibreboards. The latter goes to energy recovery.
5. Sustainable design and product development
The most important thing for us when it comes to design & product development is to use our expertise in wool to design and develop new, sustainable products that have a low environmental impact and that stand the test of time. The goal is to produce products that can last for generations, both for clothing and furniture.
All new products that are launched must be EU Ecolabel certified. We are also working on a research project with SINTEF Norway to evaluate LCA (Life Cycle Analysis) for woolen textiles with Norwegian wool produced at Gudbrandsdalens Uldvarefabrik.
6. Use of Norwegian wool
We use organic raw materials; wool and viscose. About 50% of the wool we use in production is Norwegian wool, which we buy from Norilia. (Nortura). This is as much Norwegian wool in class C1 (finest fibres) as is available on the market. Our goal is to use as much short-travel raw materials as possible.